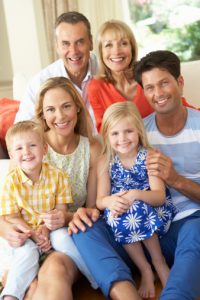 When you're searching for a family dentist, you need a dental practice that will address all the dental care needs of everyone in your family. And today a family may include parents, toddlers, adolescents, grandparents, and even that nice neighbor you look after, too. No matter the age of the patient, you can count on Dr. Racha W. Kadamani and the staff at Laith Family Dentistry in San Antonio, TX, to provide the general and family dentistry treatments you and your loved ones need.
Pediatric Dentistry with the Helotes Dentist
Let's begin with the dental care needs of the youngest members of the family, your children. Did you know that you are truly your child's first dentist? From the moment you see that first little tooth erupt through the gum, dental care should begin. After feeding, be sure to use a soft cloth dampened with warm water to gently clean baby teeth and gums. As they grow and more teeth appear, you can begin to brush with a soft, baby brush and just a dab of toothpaste.
Before we start seeing your children for regular checkups, we recommend that you bring them with you to one of your appointments. This way, they can become familiar with the sights and sounds of a dentist's office. We call this a Happy Visit.
Family Dentistry with the Leon Valley Dentist
Everyone in your family, from the youngest to the eldest, should visit Laith Family Dentistry two times each year for a dental exam and cleaning. At this appointment, we will clean your teeth, check for visible signs of tooth decay, assess the health of your gums and other soft oral tissue, conduct an oral cancer screening, and take digital x-rays when necessary to uncover any spots of decay that are between teeth or just under the surface. Of course, if we find anything of concern, then one of our dentists will recommend a course of treatment. Our aim is to correct problems early before they have the chance to grow and become bigger problems as well as bigger expenses.
Finally, as members of your family age, they may need advanced treatment, such as crowns, bridges and dentures or root canal therapy. Laith Family Dentistry provides these services as well.
Call Our Office Today
If you or any member of your family needs to see a dentist, schedule an appointment at Laith Family Dentistry. We conveniently serve patients from San Antonio, TX, Helotes and Leon Valley and the nearby area.