Dental Checkups & Cleanings – San Antonio, TX
Where Healthy Teeth and Gums Start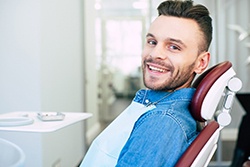 Our entire team at Laith Family Dentistry shares a passion for helping our patients in San Antonio achieve their absolute best smiles, and that starts with healthy teeth and gums. That's why we recommend visiting us every six months for a dental checkup and cleaning! We will cover a lot of ground during these appointments – from screening for oral cancer to sharing recommendations on how to improve your at-home oral hygiene routine. Want to learn more? Then read on or schedule an appointment.
Why Choose Laith Family Dentistry for Dental Checkups & Cleanings?
Dentist with 18+ Years of Experience
Dental Insurance Welcome
Convenient Appointment Times
Why Are Regular Dental Checkups & Cleanings Important?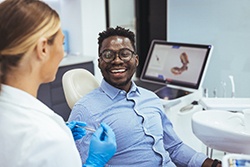 There is a common misconception that routine visits to your dentist are optional. In reality, they are just as important as other measures you take to keep your smile healthy, like brushing twice a day and flossing daily. Remember, the tools we have at our office are the only ones that can effectively remove built-up plaque and tartar. Plus, the examination portion of your visit allows Dr. Kadamani to catch tooth decay, gum disease, and other oral health problems at the earliest stage. In short, if it's been longer than six months since your last visit, schedule your next appointment today!
What to Expect During a Dental Checkup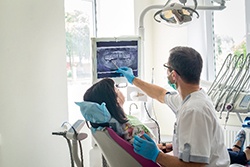 After saying hello and catching up on what's new with you, Dr. Kadamani will begin the checkup! During this portion of your visit, she will examine your teeth and gums, review your X-rays, and ask you questions about your oral health. While this may only take a few minutes, it's crucial since these steps allow for everything from cavities to oral cancer to be caught early on. Of course, if she notices anything concerning, she will bring it to your attention and discuss what the next best steps are with you.
What to Expect During a Dental Cleaning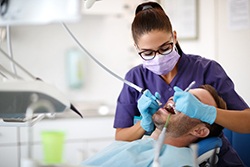 The cleaning portion typically is a bit longer, and it's equally as important. We will use our special instruments to gently remove plaque and tartar, which will help reduce your chances of developing oral health problems moving forward. We will also floss between each tooth, polish them, and provide you with any recommendations we have about how to keep your smile in pristine condition between now and your next visit with us!
Are you ready to schedule your next checkup and cleaning? We're here to help! Give us a call so we can get your next visit on the calendar.