Digital X-Rays & Intra-Oral Camera as Dental Diagnostics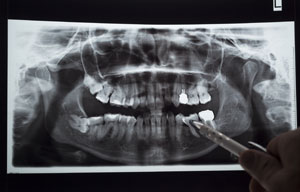 To have the clearest possible picture of your health and your needs, we use digital radiography and intra-oral cameras.
Digital X-Rays
Digital radiography exposes patients to 50-70% less radiation than traditional radiography. What's more, combined with a computer monitor, digital x-rays make it possible for us to better engage with your smile. With a clearer picture, we can create better diagnoses and better treatment plans.
X-rays are a necessary part of the diagnostic process because of the more complete picture they provide. Without them, important problems may go undiagnosed. But with x-rays we can detect problems with a single tooth or the supporting bone and gum tissues, leading to better care.
Intra-Oral Camera
With our intra-oral camera, we can capture color photos that will allow you to be more involved in the treatment process. They can provide you with a greater sense of how your smile is doing and how we can help you.
Schedule Your Appointment Today
If you're ready to schedule an appointment with our team, call Laith Family Dentistry. Our San Antonio dental team is happy to serve the needs of children and adults through comprehensive general, cosmetic, and restorative care. We look forward to serving you.