Veneers – San Antonio, TX
Perfecting Smiles with Veneers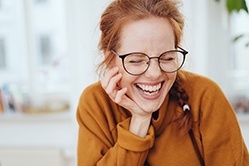 Are you interested in a beautiful smile do-over? If so, veneers may be a good option for you. These wafer-thin coverings mask the appearance of virtually any cosmetic issue affecting the teeth that show when you smile. Chips, cracks, stains, and oddly shaped teeth can all be corrected with high-quality and beautiful veneers. If you would like to learn more about your options in cosmetic dentistry, please do not hesitate to get in touch with our friendly team. During your consultation, we will examine your teeth and determine whether veneers are right for you. They can transform smiles in just two visits to our office. Contact our office to reserve a consultation today!
What are Dental Veneers?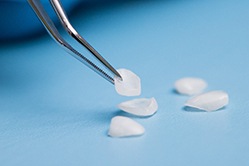 Veneers are ultra-thin shells of dental-grade porcelain or ceramic that are permanently bonded to the front surfaces of your teeth. They're designed to instantly cover a variety of aesthetic issues, including staining, discoloration, chips, cracks, gaps, and misalignment.
These modern restorations are quickly becoming one of the most popular treatments in cosmetic dentistry because they're efficient, affordable, highly customizable, and provide truly stunning results. Instead of having to undergo multiple, lengthy cosmetic or restorative treatments, you can have multiple dental flaws corrected in just one treatment with veneers.
The Process of Getting Veneers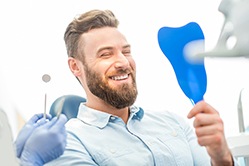 The process for getting veneers in San Antonio is performed over two visits to Laith Family Dentistry. In the first, you and your dentist will discuss your smile desires. What do you want your veneers to look like? Veneers are highly customizable, and we will make recommendations to help you achieve the look you want. After a treatment plan is in place, your teeth are prepared to receive the veneers. Preparation involves buffing a small amount of enamel from the tooth's surface. Dental impressions are made, and you leave the first visit with temporary veneers.
In the time between appointments, your veneers are created in a separate lab. You will come back to our office once they are ready. We'll give you a preview of your new smile, and once you give us the green light, we'll securely bond the veneers to your teeth.
The Benefits of Veneers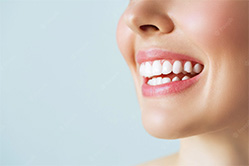 The advantages of choosing a single treatment for your smile transformation are significant. Veneers can save you time and the stress of visiting your dentist numerous times throughout treatment. Additionally, dental porcelain doesn't stain, so your veneers stay the same shade of white for years after their application. But the biggest benefit of choosing veneers in San Antonio is definitely the end result -- a beautiful, confident smile that lasts.
When cared for properly, dental veneers can stay healthy and whole for a decade or more. Brush your teeth using non-abrasive toothpaste, and continue to visit your dentist for routine checkups and cleanings. Cavities don't develop on porcelain, but the teeth beneath them are as vulnerable to decay as ever before, and your gums are always at risk of periodontal disease.
Protect your dental veneers from impact by wearing a custom-fit mouthguard during contact sports. If you grind your teeth at night, the condition known as bruxism, consider a night guard. Jaw clenching can cause the veneers to crack or break.
Understanding the Cost of Veneers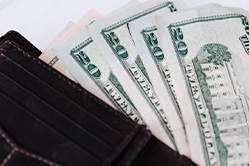 A picture-perfect smile is within your reach with veneers. You don't have to be rich or famous to transform your teeth because various factors affect the cost of veneers in San Antonio. Although they are associated with a hefty price tag, they are more affordable than you might realize. In fact, they can be the most cost-effective option if you need to correct several issues. We'll create a personalized treatment plan and find the financial solutions you need to turn the smile of your dreams into reality.
Cost VS Cosmetic Dentistry: What's Right For Me?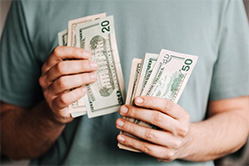 Advancements in dentistry provide more services than ever to address popular aesthetic concerns, like stains, chips, or gaps. Each treatment has a different cost, timeframe, and lifespan. It's important to consider the pros and cons of each method to find the most affordable solution for your needs and wallet. After examining your mouth and learning more about your goals, your cosmetic dentist in San Antonio will review all your options, which may include:
Braces: Whether metal braces or clear aligners, orthodontics can fix a variety of bite and alignment concerns. Braces can be partially covered under dental insurance with the average treatment taking 12 to 24 months.
Teeth Whitening: Whitening systems can treat age-related and surface stains to get your teeth up to 8 shades whiter. Since it's an elective procedure, it's not covered by dental insurance; however, with the correct care, your investment can last for several months or years.
Direct Bonding: A composite resin can address various minor flaws, like exposed tooth roots, decay, or chips. It offers a lot of bang for your buck if you need a quick fix.
Veneers: A veneer improves the color, shape, and size of a tooth. When bonded to the teeth visible when smiling, they can address multiple issues using one procedure, like chips, cracks, gaps, and discoloration. After just 2 appointments, you can have a dazzling smile that can last for a decade or longer.
Your dentist will help you make the best decision for your finances and goals. You'll know exactly what you'll have to pay before committing to anything, so you won't be surprised by any fees.
How to Make Veneers Affordable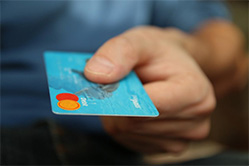 We will review your individualized estimate for veneers in San Antonio and discuss our payment methods, like:
Traditional Payments: Our office accepts all traditional payment options, including cash, checks, and credit cards.
Dental Insurance: Dental insurance rarely covers elective services, but there are exceptions if a procedure is medically necessary. Many cosmetic treatments provide restorative benefits, so you may be able to use your insurance to offset the cost in certain situations.
Monthly Financing: Based on your credit approval, you can pay any out-of-pocket expenses using monthly payment plans with little or no interest through a third-party financing company.
Dental Specials: Ask us about any ongoing promotions or specials.
If you have questions about paying for veneers, or you're ready to schedule your cosmetic consultation, contact our office today. We look forward to creating a beautiful, attractive smile you'll be proud of.
Veneers FAQs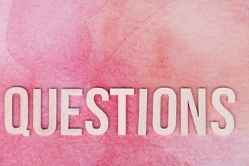 Veneers in San Antonio can create the picture-perfect smile you desire; however, they are a big commitment. Don't worry if you have some concerns because we'll explain everything during your consultation. While you wait for your appointment, here are the answers to the most frequently asked questions about veneers.
Are veneers permanent?
Veneers aren't considered permanent because they need to be replaced, eventually. However, they aren't reversible, either. A small amount of enamel must be removed to attach your veneers to your teeth. Although this doesn't harm their health, your enamel won't grow back if the veneers are removed. As a result, restorations must always cover your teeth, or they will be vulnerable to sensitivity, decay, and other issues. Veneers can last for a decade or longer with the correct aftercare, so you won't have to worry about replacements often.
How many veneers will I need?
A veneer can be attached to a single tooth to enhance its color, size, and shape. However, the overall goal of the procedure is to transform your smile. Your cosmetic dentist in San Antonio will probably recommend bonding them to the teeth visible when smiling. Since every mouth and situation is unique, there isn't any way to know how many you'll need without first examining your mouth. Some patients need 4 to 6, while others may need 10 or more. Your cosmetic dentist will explain how many it will take to reach your goals.
Do veneers feel natural?
Veneers of the past had a reputation for feeling heavy or bulky, but you don't have to worry about that anymore. Modern veneers are thinner than ever, and your dentist will use advanced technology to ensure each one fits your teeth like a glove. The etching process allows veneers to sit flush on your teeth, so you won't have any uncomfortable or unsightly gaps, ridges, or ledges. Your teeth will feel smooth and sleek when running your tongue over them. It can take a few days to adjust to your new smile, but after just a few days, you might forget they aren't part of your real teeth.
Can I use my dental insurance to pay for veneers?
Typically, dental insurance won't cover elective procedures, like veneers, but there are some exceptions. If a cosmetic procedure is medically necessary, you can use your coverage to offset the cost, like when needing replacements. Not to mention, your insurance may cover certain steps in your treatment plan, like a dental cleaning, filling, or gum disease therapy. After reaching your annual deductible, you can use your benefits to lower some fees for your treatment. A member of our team will work on your behalf to maximize any appropriate coverage. They'll take the time to explain how your insurance is being used and your payment options for any remaining balance, like third-party financing. You can pay for the smile of your dreams using monthly payments with little or no interest. We'll help you find the solutions you need to keep veneers within your budget.