Cosmetic Bonding – San Antonio, TX
Enhance Your Smile in One Appointment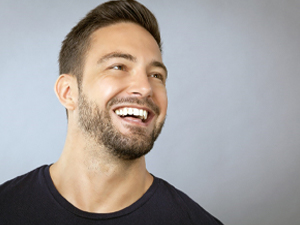 When you look at your smile in the mirror, are there small chips, cracks, or gaps that you wish would go away? These slight flaws can affect your appearance and your confidence, which is why we have a fast, easy, and affordable solution for our patients! Cosmetic bonding, also called dental bonding, is a treatment we use to erase imperfections in the smile. The best part is that you can get it done in just one appointment! Keep reading to learn all that you need to know about this amazing treatment.
What Is Cosmetic Bonding?
Cosmetic bonding is a treatment that utilizes the tooth-colored composite resin—the same material used for dental fillings. This special blend of plastics is not only durable, but it mimics the look and feel of your natural teeth. We can place this material on a tooth and sculpt it to reshape or restore it back to its full beauty. Once the tooth-colored resin is on your smile, we use a special lamp to bond it to your teeth. During the last step, we'll polish the area to match the rest of your natural smile. All of this can be done in about an hour, and it's one of the most popular cosmetic services we have to offer.
Candidates for Cosmetic Bonding
The best way to know if cosmetic bonding is right for you is to come into our office for a consultation. We'll carefully examine your smile before recommending this service. However, good candidates for cosmetic bonding will typically have:
Chipped teeth
Slightly gapped teeth
Slightly crooked teeth
Misshapen teeth
Permanent discoloration
The Benefits of Cosmetic Bonding
We offer dental bonding in San Antonio because of these advantages:
Speed: Patients can enjoy beautiful results after just one quick appointment.
Beauty: Cosmetic bonding erases numerous flaws, giving you the smile of your dreams.
Cost: One of the most affordable cosmetic treatments, you can get the results you want without breaking the bank.
Confidence: With cosmetic bonding, you won't have to hide your smile because of the imperfections that take away from your appearance.
How Long Will Your Cosmetic Bonding Last?
Cosmetic bonding is a durable procedure that can last 3 to 10 years. However, with proper care, you can enjoy the full lifespan of this service. After getting cosmetic bonding, make sure to brush and floss your teeth daily to remove plaque and bacteria from your smile. You should also use a soft-bristled, non-abrasive toothbrush to avoid damaging the bonding material. Additionally, avoid using your teeth for anything other than chewing and speaking. Lastly, wear a mouthguard during sports or physical activity to protect your newly enhanced grin.
If it sounds like you could benefit from cosmetic bonding, don't hesitate to give us a call! Our team will answer any questions you may have.