Central San Antonio Dentistry Services
At Laith Family Dentistry of Central San Antonio, we are proud to offer a wide range of dentistry services to meet any patient need. From the moment you walk through the door, you'll feel welcome and right at home. Call our dedicated dentists and dental care team today to schedule an appointment with us in our Central San Antonio dental office location. We can't wait to help you with all of your oral health and hygiene needs in our comfortable, family-friendly dentistry office.
Our Wide Range of Dentistry Services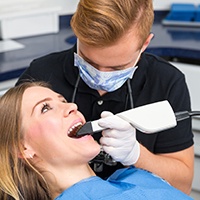 At Laith Family Dentistry Central, we offer a wide range of comprehensive dental care services to keep patients of all ages smiling. From general dental checkups and teeth cleanings to the most advanced dental implant supported tooth replacement plans, we're here to help you with all of your dentistry needs. Some of our many dental services include the following:
Family & Preventive Dentistry Services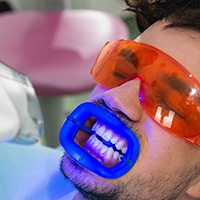 We welcome patients of all ages and create personalized treatment plans to meet every patient's unique needs. Our team focuses every patient's oral health care plan on prevention to keep their smiles healthy. Most preventive dental care plans begin with six month checkups and teeth cleanings. We use state-of-the-art digital x-rays and images to diagnose and treat oral health concerns in the earliest possible stages. These digital images also allow patients to be active participants in their oral health care because they can see just what we're talking about. In addition to basic dental checkups and teeth cleanings, we are also happy to offer patients a wide range of general dentistry services like dental sealants, fluoride therapy, and screening for serious health issues like oral cancer.
Cosmetic Dental Care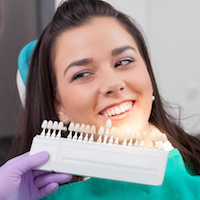 If you want a flawless smile but you weren't lucky enough to be born with one, our team offers a range of cosmetic dentistry solutions to create picture-perfect smiles quickly, comfortably, and within almost any budget. From basic in-office and at-home teeth whitening, dental bonding, and porcelain veneers to complete smile makeovers and Six Month Smiles orthodontic treatments, we can help you to achieve the smile you desire.
Dental Restoration Options
When we're not able to prevent oral health concerns before they begin, our skilled team is able to offer patients a range of restorative dentistry solutions. We always begin by recommending the most conservative treatment options in order to preserve the maximum amount of healthy tooth structure. Some of the many restorative solutions we provide include tooth-colored fillings, dental crowns, fixed bridges, partial and full dentures, and implant supported tooth replacement.
Oral Surgery
For patients in need of the most advanced oral and maxillofacial surgery services, we're happy to accommodate your needs with a variety of surgical services, including tooth extraction, bone grafting, impacted canine therapies, apicoectomy, and treatments for TMJ dysfunction. To ensure your complete comfort during these advanced surgical procedures, we're happy to offer nitrous oxide sedation to help patients maintain comfort.
Your Appointment with the Laith Family Dentistry Centeral Team
The first step of your journey to a lifetime of healthy smiles is scheduling an appointment in our state-of-the-art, family-friendly dental office. When you visit our dental office, you'll be greeted warmly by a member of our team. Then, we'll complete a thorough dental exam and discuss all of your treatment options. We always welcome patients to ask questions or make any requests for improved comfort, during their time in our office. Our goal is to provide service that exceeds the highest patient expectations.