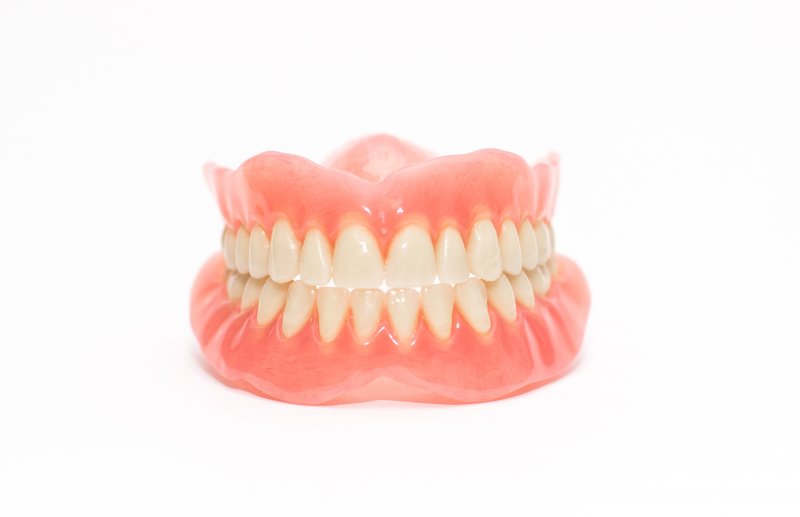 Dentures are an excellent way to restore a compromised smile enjoyed by millions of Americans. However, there are still some unfortunate misconceptions about them. While some of these falsehoods might dissuade people from getting dentures, others might lead people to neglect their proper maintenance. Here are a few myths you might have heard along with the truths behind them.
Myth #1: Dentures Exempt Me from Oral Hygiene
You might think that if you have a new set of artificial teeth immune to tooth decay, then you don't have to worry about oral hygiene or seeing a dentist for the rest of your life. Nothing could be further from the truth. Dentures and the mouth that wears them must be cleaned and maintained on a daily basis. This means daily gum cleaning as well as brushing your dentures and soaking them for eight hours a day in an approved cleanser. You must also have regular dental appointments. Otherwise, your dentures will become a noxious breeding ground for bacteria that can cause miserable infections in your mouth.
Myth #2: Dentures Can Be Worn Continuously
Modern dentures are comfortable enough for you to fall asleep while wearing them, but that doesn't mean you should. Bacteria love a warm, dark, damp place to call home, and the space between your dentures and your gums provides them with exactly that kind of habitat. Dentures need to be soaked in an approved cleanser for at least eight hours every day, so most patients take them out before they go to bed. This gives the gums time to relax and heal from the stress of wearing the dentures and the mouth time to clean itself of food particles that might otherwise get stuck under the appliance.
Myth #3: Dentures Are Prone to Falling Out at Embarrassing Moments
Dentures are usually held in place entirely by suction, and that should be enough for a pair that fits properly to stay secure in the mouth. If your dentures are slipping, sliding, or falling out when you are eating or speaking, they may require a reline to adjust their fit. In fact, if you need denture adhesive to make sure your dentures stay in place, it might be time to see your dentist for an adjustment. If you want added security, implant-supported dentures can bite better and stay more firmly in place by being anchored by several dental implants.
Dentures can bring your smile back to your face along with a rich variety of healthy foods to your diet. Don't let any falsehoods about them dissuade you from getting them or fool you into neglecting proper oral care. Consulting with your dentist can determine whether dentures are the right dental restoration for you.
About the Author
Dr. Racha W. Kadamani graduated from the Loma Linda University School of Dentistry in California and has more than eighteen years of experience in the field. She is a proud and active member of the American Dental Association and the Texas Dental Association. Her office in San Antonio, TX offers family, cosmetic, emergency, and restorative dentistry including denture treatments. For more information on the benefits and proper care of dentures, contact her office online or dial (210) 782-6842.