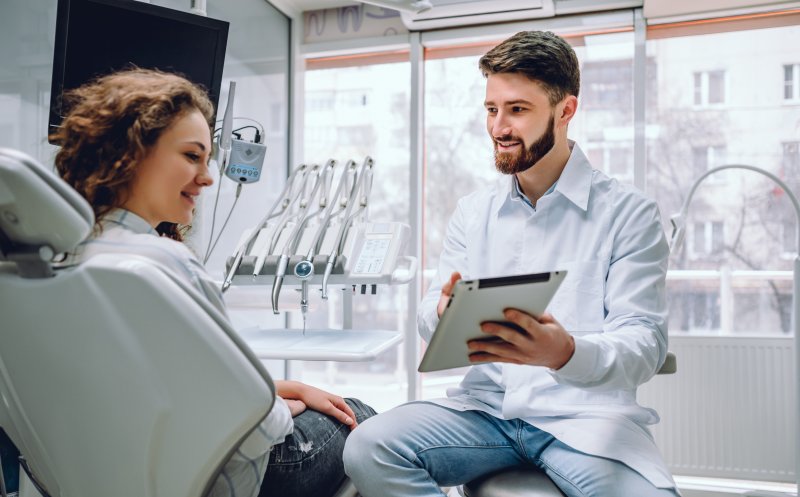 It's recommended that patients see their dentist for checkups biannually, but life is busy, and unfortunately, many people see their dentist less often than that.
Some people make the trip way less often. If you haven't been to the dentist in a long time, you might wonder how best to handle the appointment. Here are a few things to keep in mind for your upcoming checkup that can make your and your dentist's life easier.
1. Brush Before Your Appointment
When you invite someone over to your house, you clean up a little bit first, right? Your dentist is going to be getting up close and personal with you during your appointment, so you should make sure that you're as clean as possible.
That makes the job of routine cleaning much easier by making areas of tartar buildup significantly easier to spot. Your dental hygienist will also have to spend much less time cleaning up food particles, making things faster for everyone.
2. Show Up on Time
Your dentist is making time for you, so it's only fair that you make time for them! Dentist's are busy, and they often have appointments back to back. Showing up late may delay them, or mean that you get less time than you deserve from your dentist.
3. Communicate What You're Feeling
Dentists are proud of the work that they do, but they know that not everyone is as much of a fan. Your dentist wants to make your experience as happy as possible, so if you're anxious or uncomfortable you should let them know.
If you're experiencing pain, it may be an indicator of an underlying oral health issue, which makes it something your dentist would absolutely want to know. They also have a wide variety of anesthetics and other drugs that can make even the most anxious patient easy.
The most important thing to remember is that your dentist is there to help restore you to perfect oral health. No matter how long it's been since your last appointment, showing up to your next one is all that matters.
About the Author
Dr. Racha W. Kadamani is a dentist who wants her patients to get the individualized attention they deserve, so she works hard to ensure that everyone who visits her office gets to know her one-on-one. Dr. Kadamani is originally from Damascus, and when she moved the U.S. she studied at the Loma Linda University School of Dentistry. She's been practicing for over 18 years since then, and in that time she's managed to stay on top of the latest in oral technology.
If you have any questions about what goes on at a dental checkup, we can be reached at our website or by phone at (210) 782-6842.