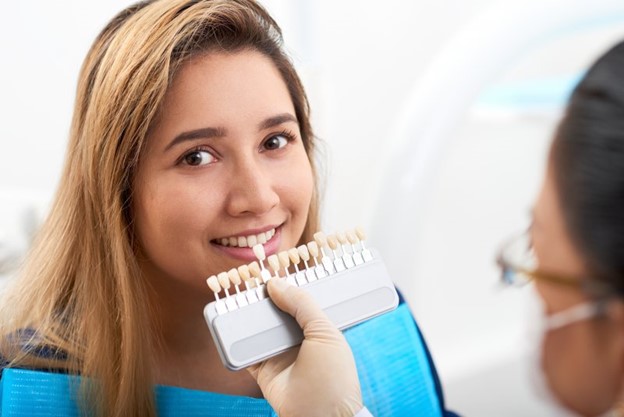 If you're unhappy with the state of your smile, your situation isn't hopeless! Fortunately, incredible cosmetic treatment options like porcelain veneers are available to help you achieve the smile of your dreams. That said, you might have a few questions about porcelain veneers before you're willing to commit to them. Keep reading to learn more about four facts that everyone should know before receiving porcelain veneers.
1. Veneers Cover Up Most Imperfections
Porcelain veneers are used primarily for addressing minor aesthetic flaws that are found in your teeth. Chipped or cracked teeth, stains and discoloration, gaps between teeth and more can all be corrected with veneers. However, for serious problems like severely damaged or missing teeth, veneers aren't very effective since they need something to be bonded to.
2. They Can Treat One or Multiple Teeth
Another awesome thing about veneers is their ability to treat any number of teeth; if you only have one tooth that needs attention, a single veneer can be used. Or, if you have an entire row of teeth that need a makeover, you can receive a whole row of veneers. The freedom to pick and choose which teeth and how many teeth receive treatment isn't always available with other treatment options.
3. The Process Usually Takes Time
Even though veneers might seem like a very quick and straightforward solution, placing them usually takes several hours or sometimes a second appointment. Your dentist must first prepare the affected teeth by removing a small amount of enamel, and impressions of your mouth must also be taken so your veneers can be custom-made to fit inside. Finally, your dentist must measure and adjust them once they're placed on your teeth. However, when compared to other treatment options and processes that can sometimes take months to complete, the timetable for getting veneers isn't nearly as lengthy.
4. Veneers Require Minimal Maintenance
Your veneers will look bright and white upon being placed, but they won't stay that way unless you take great care of them! Fortunately, porcelain veneers don't require any additional specialized care; simply brush and clean them as you would your natural teeth. By doing so, you can ensure their integrity and help them last for a long time (10+ years in most cases).
If you're interested in receiving porcelain veneers to upgrade your smile, talk with your dentist to get the ball rolling. Knowing what to expect can ensure that your treatment is ultimately successful and able to deliver the results you deserve!
About the Practice
Laith Family Dentistry proudly serves patients and families in the Central San Antonio area under the lead of Dr. Racha W. Kadamani and her incredible team! Dr. Kadamani received her dental doctorate from the Loma Linda University School of Dentistry in California and is a member of several prestigious organizations including the American Dental Association and the Texas Dental Association. Her practice is pleased to offer many available services including porcelain veneers! If you have any questions for Dr. Kadamani or would like to schedule a visit, you can contact her online or by phone: (210) 782-6842.