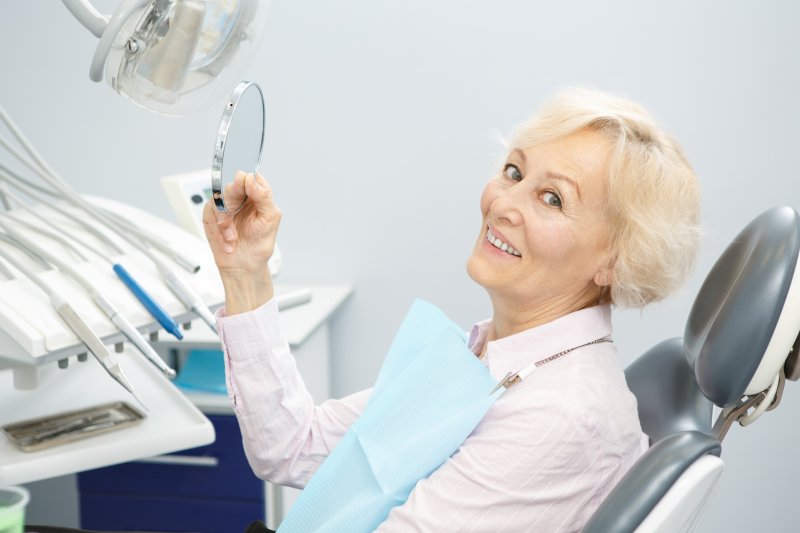 For those who have lost all or most of their teeth, dentures are an excellent fit that can make all the difference in the world when it comes to enjoying hearty meals and being able to smile in front of strangers. But sometimes, dentures aren't as stable as you might want them to be; they can be prone to slipping and moving out of place at the wrong moment. Using denture adhesive properly will help you keep your new smile stable; in this post, you'll learn more about when denture adhesive should be used, the best way to apply it to your dentures in San Antonio, and how you can remove your when you're done.
When Should You Use Denture Adhesive?
Denture adhesive can be a good option if:
You want to improve the biting strength of your dentures while also making them more comfortable.
You suffer from dry mouth that is affecting your denture's ability to stay in place via natural suction.
You practice good oral hygiene.
Are only looking for a slight improvement in stability.
If dentures are poorly fitted or especially uncomfortable, then you should have them replaced or relined instead of using adhesive. If you schedule a consultation with your dentist, they can evaluate the fit of your dentures and determine whether or not an adhesive is an appropriate solution.
Using Denture Adhesive
First of all, you need to check the dentures to make sure that they're clean. If you find any food particles or other debris, they should be brushed or rinsed away first. After drying your false teeth, follow the instructions on the packaging of the adhesive. Generally, you'll apply it in a series of small dots or strips; be very careful not to use too much. Then, when you place the dentures in your mouth, hold them in place for a few seconds. You should normally have to apply the adhesive only once a day; if you find yourself using it more often on a regular basis, you may want to talk to your dentist about the fit of your new teeth.
Removing Dentures Held by Adhesive
The key is to be gentle so that you don't damage the restoration. Lower dentures can be removed with a slight rocking motion. Upper dentures require a little more effort since there's a larger surface area being held in place; the proper technique is to place your thumb against your front teeth and then press upward and outward. Call your dentist or the emergency room if you're unable to remove your dentures.
Denture adhesive may not be a universal solution for ill-fitting dentures, but they can give your confidence a boost and help your new teeth function as well as possible. Make sure that you read the instructions on your adhesive carefully, and take good care of your dentures overall!
About the Author
Dr. Racha W. Kadamani graduated from the Loma Linda University School of Dentistry in California. She has over 18 years of dental experience under her belt, and today she is a proud member of the Texas Dental Association. Due to her dedication to giving her patients fully personalized attention, she puts a lot of care and effort into making sure the dentures she provides fit properly. If you have concerns about the fit of your dentures or have been thinking about using denture adhesive, you can schedule a consultation at Laith Family Dentistry via her website or call (210) 782-6842.