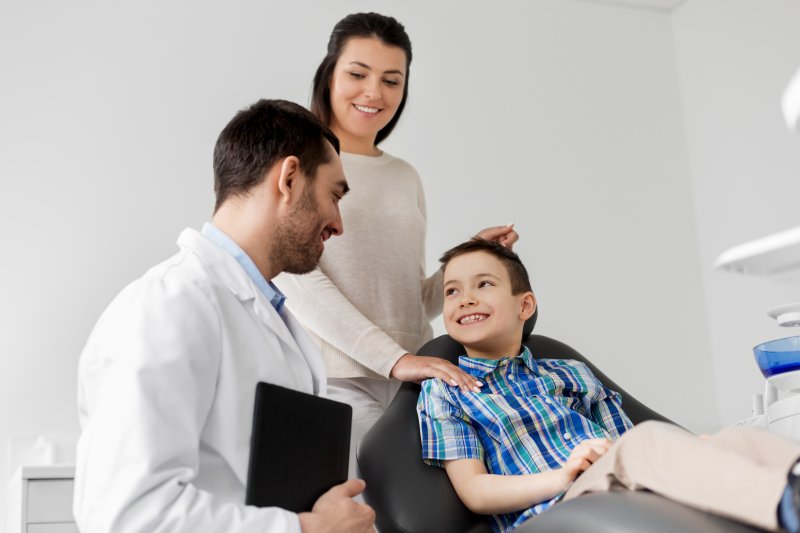 Dentists recognize that parents will do anything and everything to protect their child's health, especially when they are very young and still developing. As a parent, it's likely that you already make your child gets enough exercise and eats well, but what do you know about their oral care habits? Since February is Children's Dental Health Month, now is the perfect time to give your children's dental health in San Antonio the attention it deserves! If you aren't sure where to start, keep reading this post from a pediatric dentist!
Take Their Baby Teeth Seriously
It's true that baby teeth are supposed to fall out "naturally" and "on their own," but it's important not to take this fact for granted. Just because a baby tooth falls out early doesn't mean it's not considered to be a dental emergency. Whether it's from tooth decay or from a bad fall that knocked it out, you should keep in mind when teeth are expected to fall out and be replaced with their permanent teeth.
Additionally, new parents will want to make sure that they aren't inadvertently putting their child at risk for baby bottle tooth decay. This occurs when a parent allows their infant to drink fluids in their crib for long periods of time, such as milk, baby formula, fruit juice, or other drinks that could contain added sugars. This long-term exposure to these beverages can make it easier for oral bacteria to consume the sugars in the beverage and produce plaque acids, which then cause tooth decay.
Help Them Perfect Their At-Home Care
Your child won't know how to brush and floss properly unless you teach them. Thankfully, with the help of a pediatric dentist, you can protect their developing smile and ensure they build habits that last well into adulthood. To get started, consider the following:
Make sure they are brushing with a soft-bristled toothbrush and fluoridated toothpaste.
Have them floss once a day. You can provide them with child-safe, hand flossers if they find traditional floss too difficult to use.
Brush and sing a song with them that's at least two minutes long to make oral care more fun.
Reward them for completing their oral care without making a fuss or trying to get out of it. This will show them how important their oral care is to you moving forward.
Know When to Bring Them to the Dentist
Children should have their first dental appointment either within six months of their first tooth erupting or by their first birthday. Even if your child does not have any erupted teeth, a pediatric dentist will still want to briefly examine your child's mouth. From there, they can not only confirm the current status of their oral health, but recommend future preventive treatments such as dental sealants and fluoride therapy to dramatically reduce their risk of future dental problems
Make your child's oral health a priority this month and for many years to come by bringing them to see a pediatric dentist in San Antonio today!
About the Author
Not only does Dr. Kadamani have nearly 20 years of experience in the field and stays on top of the latest advancements in dentistry, but she's a mother herself. When the time comes for your child's very first dental appointment, you can expect her to provide them with individualized attention and a strong commitment to their wellbeing. To schedule an appointment with her office, you can contact her through her website.