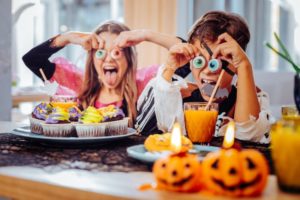 With COVID-19 cases skyrocketing in Texas, there will most likely be no trick-or-treating happening for children in your neighborhood to ensure their health and wellbeing. However, many parents will compensate for their child missing out on fun by grabbing a bag of Halloween candy from the store, getting comfortable on the couch, and watching fun Halloween movies! With the extra sweets hanging around, it'll be important for your little one to keep on-top of their oral health by following these three helpful tips from your family dentist on cavity prevention during Halloween.
Encourage Your Child to Stick to a Routine
If your child has a sweet tooth and will devour candy if it's laying around the house, it's important to make sure that during Halloween, they stick to a thorough and effective oral hygiene routine. This means that they should be brushing their teeth twice each day for at least two minutes with fluoride toothpaste, flossing between each of their teeth at least once a day, and rinsing with antimicrobial mouthwash every day.
If your child is younger, be sure to let them brush and floss alongside yourself so they can mimic your movements and learn how to do these tasks properly. If not, they may not be effective at removing all sticky and sugary sweets from the molars, causing cavities to become an issue.
Make a Candy Plan
If you know that your child gravitates towards sweets and they'll be available to them during Halloween, it's a good idea to make a candy plan. This means making sure to sit down and have a talk with your child about how eating too many sweets can be bad for their smile, and why it's important to switch out gummies and chocolates for healthier options every now and then. Try to set a limit to the number of fun-sized candies they're allowed to have in a day and set clear boundaries before the house becomes flooded with sugary snacks during Halloween.
Try to Also Incorporate Not-So-Sweet Snacks
Sometimes, the most exciting part about holidays like Halloween is seeing all of the fun themed goodies. In many cases, children are perfectly content not eating sweets and instead, eating bat-shaped pretzels or vegetable chips! Try to give them a variety of Halloween-themed snacks to choose from to make sure that they're not constantly munching on sugary foods that aren't great for their health or smile.
The best way you can prepare your child for a cavity-free Halloween is to schedule their checkup and cleaning to their family dentist. This will make sure that by the time the holiday starts, their smile will be healthy and you won't need to worry about worsening problems that cause them discomfort.
About the Author
Dr. Racha Kadamani has over 18 years of experience as a family dentist. As a mother herself, she understands the hassle that comes with trying to reign in a child's sweet tooth during the holiday season, which is why she recommends bringing them in for a checkup and cleaning beforehand. She provides thorough and effective cavity prevention treatments, such as dental sealants, to protect their smiles and make sure they stay healthy. For questions or to schedule an appointment for you and your family, visit Laith Family Dentistry's website or call 210-782-6842.