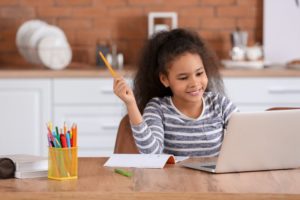 Just like adults, children's dental health problems can impact their daily lives, including their social interactions and academic achievements. If your child frequently gets dental problems, it may be the reason why they're not high-performers in school. Over the last several years, studies have begun to uncover the effects of poor oral health on children. Read on to learn more about how your children's dentist in San Antonio can help your little one thrive in school.
What Do The Studies Show?
A study published in The Journal of Pediatrics in December of 2012 looked at how children's dental health can impact their school performance and psychosocial wellbeing. They analyzed data collected by the National Survey of Children's Health that collected information from a large population of about 41,000 children across the country.
The results of the study showed that dental problems were significantly linked to the decline in school performance and psychosocial wellbeing in children. Children with dental problems were most likely to have issues at school, miss school more frequently, and less likely to complete all required homework. They also found that children with dental issues related more closely with shyness, unhappiness, and reduced friendliness. In essence, just like with adults, oral health issues can take a huge toll on children's mental and physical health, ultimately affecting their day-to-day lives.
5 Oral Health Tips For Children
School is just about to start back up, and with this new knowledge, it makes sense to implement some new oral hygiene tips and techniques to improve your child's performance. Here are five different ways to help your little one avoid developing oral health problems throughout the school year:
Get into a stable back-to-school routine that involves brushing in the morning before they leave and at night, after dinner.
Find new ways to make brushing more fun for your child, like letting them choose their own toothbrush and toothpaste.
Start the school year off by taking them for a checkup and cleaning with their children's dentist.
Pack tooth-friendly lunches for school that don't contain sugary snacks or carbonated, sweet drinks.
Get involved with your child's dental hygiene routine by showing them how to correctly brush and floss their teeth at home.
If you have any questions about your child's oral health or would like some new tips and tricks to help them be more active about taking care of their smile, don't hesitate to ask their dentist at their appointment. With these helpful children's oral health tips, you can set them up for academic success and help them feel more confident interacting with their peers.
About the Author
Dr. Racha Kadamani is a mother herself, so she understands how difficult it can be to encourage children to take an active part in taking care of their teeth and gums. She offers a variety of kid-friendly dental treatments to prevent common oral health problems like cavities from developing. Her team is also familiar with treating younger patients, and are focused on creating a welcoming and exciting atmosphere for them to learn more about their oral health in. For questions or to schedule a checkup and cleaning for your child before they start school, visit Laith Family Dentistry's website or call 210-782-6842.