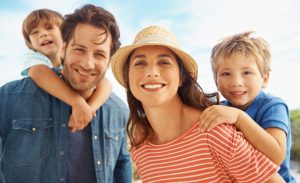 If you've ever had a toothache, you know the pain doesn't stop in your mouth. In addition to the aching tooth, you might have a pounding headache, or maybe you feel lethargic at work. That's because the body is easily influenced by what's going on in your mouth, and vice versa — so it's crucial to maintain the health of both. Today, learn more about how your oral and overall health are linked from your San Antonio dentist.
Keeping Healthy Teeth for a Healthy Body (And Vice Versa)
Your oral health is inextricably linked to your overall health, and we see the evidence in our office all the time. The opposite is also true; certain bodily conditions can affect the mouth, too. In fact, the dentist is often the first one to recognize the problems in the mouth that indicate larger medical issues, meaning the patient can seek diagnosis and crucial treatment sooner.
Some conditions linked to oral health include:
Cardiovascular conditions: Recent studies suggest that gum disease sufferers are much more likely to suffer from problems with their heart health. That's because when the gums are infected, it's easier for bacteria to enter the bloodstream, which can have serious implications on the heart. Stroke, heart disease and other conditions can occur as a result.

Effects on pregnancy and birth: Gum disease has also been linked to premature birth and low birthweight. Additionally, hormonal changes during pregnancy can also cause a temporary gum condition we call pregnancy gingivitis. It should go away after the baby is born, but if left untreated can develop into something more serious.

Bone loss: The effects of gaps in a smile go beyond lower self-confidence. Missing teeth also cause bone loss in the jawbone, meaning the mouth will continue to deteriorate and change shape as time passes — resulting in even more tooth loss later on.

Diabetes: Because the condition seriously affects your body's ability to fight infection, diabetes sufferers are more likely to suffer from gum disease and other mouth infections.

Alzheimer's Disease: Early tooth loss (before the age of 35) is an indicator of the disease.
How to Maintain Excellent Oral Health
There are no secrets when it comes to how to remain in top oral health. Just remember three things: brush for two minutes, twice a day, floss once a day and visit your dentist every six months. These are crucial steps for fighting tooth decay — for the health of your mouth, and your body.
Request Your Appointment With the Dentist You Trust in 78254
If you have questions about your oral health, or if it's been awhile since your last dental appointment, don't hesitate to request your appointment with the doctors at Laith Family Dentistry today. We're proud to be the San Antonio, Helotes and Leon Valley dentist our neighbors can trust!