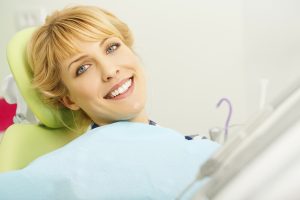 Dr. Kadamani is serious about helping her patients have a beautiful smile and enjoy a long and healthy life. How serious? For the entire month of March, you can come see your 78254 dentist for a FREE oral cancer screening with VELscope®, an advanced dental technology that allows cancerous and pre-cancerous lesions to be spotted earlier.
Does VELscope Hurt?
Not at all. VELscope uses harmless blue light to make cancerous spots more apparent than they are to the naked eye. VELscope causes soft tissue in your mouth to look fluorescent. If the tissue is normal, then we can expect to see a certain pattern under the light of VELscope. However, if there is an abnormality, then this area of tissue looks different. VELscope is not a replacement for Dr. Kadamani's careful visual inspection of your entire oral cavity and throat, but is a worthwhile supplement to ensure the ability to find oral cancer as early as possible.
What are the Visible Signs of Oral Cancer?
You are welcome to come to our office this month for your free screening with VELscope. However, during the remaining 11 months of the year, Dr. Kadamani and her staff want you to be aware of the signs of oral cancer. You should always be on look for these signs and symptoms; if you find anything suspicious, then please contact our office immediately to schedule an appointment.
The early warning signs of oral cancer include:
A red or white patch of tissue anywhere inside your mouth or on your lips
A sore that hasn't healed in more than two weeks
A lump or spot of tissue that feels thicker
A sore throat or hoarse voice that won't go away
Ear pain, but no infection
Tooth pain, but no sign of decay or infection
Feeling as if something is always stuck in your throat
Dentures that don't fit well
A difference in the way your teeth come together
What are Oral Cancer's Statistics?
In the United States, oral cancer causes more than 9,500 deaths annually. That means that one person dies every hour of every day because of oral cancer. Moreover, the five-year survival rate for people diagnosed with oral cancer stands at only 64 percent.
What Can You Do to Reduce Your Risk of Oral Cancer?
Aside from seeing the dentist for regular checkups that include an oral cancer screening, you can stop using smoking and chewing tobacco or don't start; limit alcoholic beverages; eat fresh fruits and vegetables; and avoid exposing your lips to the sun or use lip balm with SPF.
Contact Our Office Today
Don't let the month of March go by without having your FREE oral cancer screening with VELscope. Call Laith Family Dentistry to schedule an appointment.